MISSION STATEMENT

HOPE-HOWSE Intíl, Inc. (HH) is a Georgia based nonprofit corporation currently doing business in both Georgia and New Mexico (as a foreign corporation) formed exclusively for charitable and educational purposes. The main purpose of HH is to provide support and educational services to prison inmates, gang members; at-risk children and other members of the general public in order to learn about participants, promote human dignity, improve self-esteem and encourage responsibility. Specific topics covered in the program include teaching meditation techniques, encouraging writing as a tool for healing, and practicing complete honesty with oneís self and others through group meetings and individual encounters.
HH achieves these goals through the following activities:
Personal contact (individual and groups both public and private)
Written correspondence
Telephone contact
Strong presence in communities
Through its affiliation with One Heart Ranch, LLC, hopes to build a safe, supportive, and healing community including housing, equine and canine rescue programs, and therapeutic support for those preparing to reenter society.
Much of the work of HH is reaching out to the general public through articles, radio, television and print interviews and a website in order to promote communication and understanding among all people.
HH is also conducting other activities consistent with the above stated goals including workshops, retreats (at One Heart Ranch) and public speaking, including high schools, colleges, detention centers and prisons.

Founder Jane Davis Honored...
On Saturday April 25, 2009, HOPE-HOWSE founder Jane Davis was honored as Volunteer of the Year by the New Mexico Corrections Department. In honor of Jane's recognition, an anonymous donor is matching immediate contributions (up to a total of $1500). Use the "Donate" button above right now to help HOPE-HOWSE continue and expand their outreach!

The Award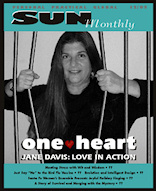 HOPE-HOWSE founder
Jane Davis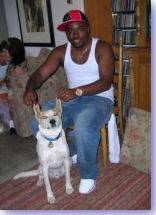 Rod Dupree (Atlanta, GA) and Hogan. Rod was 14 when he first connected with HOPE-HOWSE. Now, at 24 he has turned his life around.